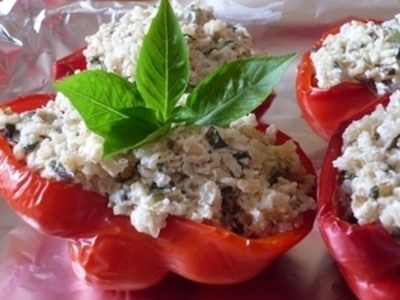 I used to think that making stuffed peppers was a complicated business, but this recipe for baked red bell peppers stuffed with whole grain rice and feta cheese is very easy to make, looks fabulous and tastes delicious. Try serving them with cucumber salad as a refreshing accompaniment.
Time: about 50 minutes for cooking the rice, plus 45 minutes preparation and baking time
Serves: 2
Ingredients:
2 large red bell peppers
5 oz (140g) soft goat's cheese
2 – 3 tbspn fresh basil leaves (shredded)
2 cloves garlic (finely chopped)
½ cup (4 oz/100g) wholegrain rice (uncooked)
olive oil for the salad
½ cucumber (finely sliced)
2 spring onions (sliced)
handful of mint leaves (sliced into slivers)
4 oz (115g) lettuce leaves
black pepper
Vinaigrette Salad Dressing
Garnish: 1 oz (30g) toasted sesame seeds
Method:
Boil the rice in 1½ cups (12 fl oz/300ml) water for about 50 minutes. Allow to cool

Meanwhile preheat oven to 350℉, 180℃, Gas mark 4

Slice each pepper vertically in half, remove cores and seeds, place cut side up on a baking tray. Bake for about 10 minutes, until beginning to soften

Meanwhile, mix together the cheese, basil, garlic, black pepper and cooked rice

Spoon an equal amount of the rice mixture into each pepper half

Drizzle a little oil over each pepper half and return to the oven

Bake a further 20 minutes

For the salad, mix together the cucumber, spring onions and mint

Add 2 tbspns of the prepared vinaigrette to the cucumber salad and gently toss

Arrange lettuce leaves in a salad bowl, and arrange the cucumber mixture on top

Garnish with toasted sesame seeds

Serve the hot stuffed peppers with the cool cucumber salad
Cook's tip:
I have a great recipe for Vinaigrette Dressing in the Detox Maintenance Collection - 130 Recipes from Around the World, and in Detox Maintenance Recipe Collection - Book 7: Dressings, Sauces and Marinades
Aubergines (Eggplant) and Spiced Chickpeas with Pistachio Sauce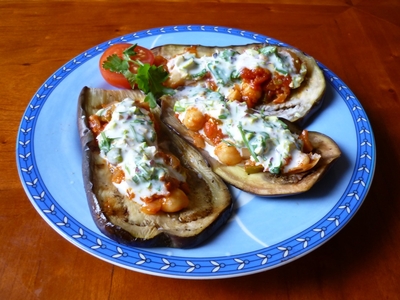 Smokey aubergines (eggplant), spicy chickpeas and a pistachio sauce - a winning combination of textures and tastes.
Time: 60 minutes
Serves: 2
Ingredients:
2 aubergines (eggplant)
14oz (400g) can chickpeas (drained) 14oz (400g) can chopped tomatoes
4 tbspn olive oil
1 onion (finely chopped)
1 inch (2cm) piece ginger (peeled and grated)
1 red chilli (seeded and finely chopped)
½ tspn cumin powder
½ tspn cinnamon powder
½ tspn coriander powder
juice of half a lemon
8 oz (200g) goat's yogurt
1 clove garlic (peeled and crushed)
2 oz (60g) shelled pistachio nuts
handful coriander leaves (chopped)
Method:
Cut the stalk end off the aubergines and slice lengthways. Sprinkle a little salt over, to extract the bitter juices and set aside for about half an hour

Meanwhile, if the pistachios are salted, rinse under cold water, and pat dry 2. Heat 2 tbspn oil, gently sauté the onion until soft, about 8 minutes

Add the ginger, chilli and spices, mix well and continue cooking for a further 2 minutes, stirring frequently

Stir in the chickpeas and tomatoes, simmer for about 30 minutes until thickened

Season and add the lemon juice

Rinse the salt off the aubergine slices, and pat dry

Heat and lightly oil a ridged grill pan (or barbecue). Take each aubergine slice and brush with oil and season both sides. Grill (in batches if necessary) until tender and golden, turning only once

For the sauce, roughly chop the pistachios, mix together with the yogurt, garlic and most of the coriander

To serve, arrange aubergine slices on a warmed serving dish, and spoon over the chickpeas and vegetables

Serve topped with pistachio sauce, garnished with coriander