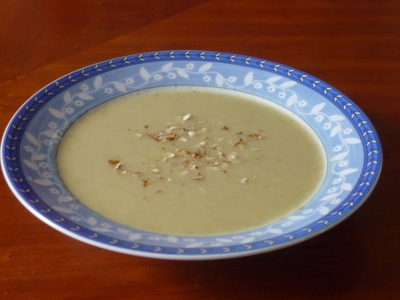 Apple and celery make a great salad combination, so why not make them into a soup as well. This recipe is very quick and easy.


Cooking time: 20 minutes
Serves: 2
Download this recipe
Ingredients:

1 dessert apple (cored and chopped)
2 stalks celery (chopped)
2 tbspn olive oil
1 clove garlic (peeled and crushed)
1½ cups (10 fl oz/100ml) water or vegetable stock
½ cup (4 fl oz/100ml) rice milk
½ cup (4 fl oz/100 ml) goat or sheep yogurt
Garnish:
2 tbspn walnuts (roughly chopped)


Method:
Heat the oil in a pan, add the apple, celery and garlic, and cook over a low heat for three or four minutes

Heat the water or vegetable stock and rice milk, and add to the mixture, then season

Cover and simmer for 3 minutes

Pour into a food processor and blend until smooth

Allow to cool a little before stirring in the yogurt

Serve garnished with walnut

Cook's Tips:
This soup also tastes delicious cold. Chill in the refrigerator for at least 2 hours before serving. I have a great recipe for vegetable stock at the end of this book.
Chilled Watermelon and Tomato Soup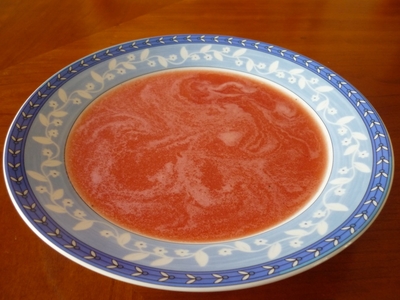 My friends Johann and Octavio who used to own a beautiful restaurant in Merida, introduced me to this exquisite, delicate soup. Perfect for a hot summer evening, chilled watermelon and tomato soup is very refreshing and has a beautiful, rich, red colour
Time: 40 minutes plus 2 hours chilling time
Serves: 4
Ingredients:
2½ lb (1.25k) watermelon
12 oz (350g) ripe tomatoes
2 tbspn fresh lemon juice
1 tspn avocado oil
2 oz (50g) feta cheese (finely cubed)
1 can anchovy fillets (drained and cut into small pieces) optional
Garnish: a few sprigs of fresh mint
Method:
Place the whole tomatoes in a bowl, and pour boiling water over to cover

Leave for a few minutes, then remove the tomatoes with a fork, one at a time, and gently peel off the loosened skin

Halve the tomatoes, and discard the seeds while conserving the juice

Cube and seed the melon

Put pieces of watermelon in the blender and pulse until smooth. Strain the liquid into a measuring jug. Do the same with the tomato and strain into a separate measuring jug. If you can't put all the ingredients in at the same time, make smaller batches. You should have approximately the same amount of watermelon and tomato juice. Depending on the juiciness of the two main ingredients, you may need to adjust the quantities slightly

Lightly season, cover, and chill in the refrigerator for at least 2 hours

To serve, scatter some feta cheese into each soup bowl, add the anchovy fillets, ladle in the soup, and garnish with a few drops of oil and a sprig of mint
Cook's Tip: You can save chilling time by storing the watermelon overnight in the refrigerator