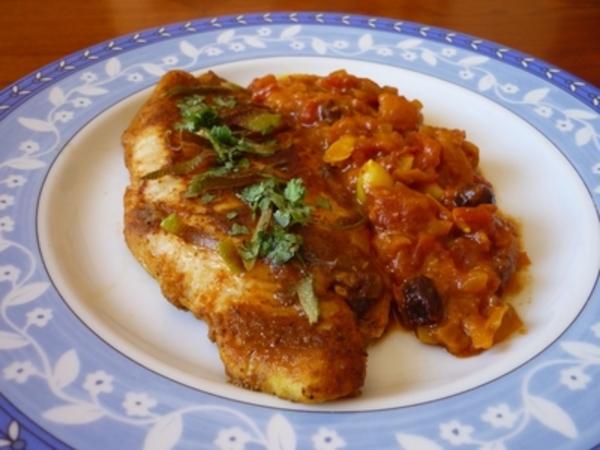 Tajine is a Moroccan dish named after the earthenware pot in which it is served. Traditionally, the nomads cook this dish very slowly in a tall.unglazed, earthenware pot with a bulbous base and a chimney, and then transfer it to the "tajine" for serving. In this version we use a cast iron casserole dish.
Time:1¾ hours' cooking time plus overnight preparation and marinating time
Serves 6

Ingredients:
6 firm white fish fillets
2 tspn ground ginger
2 tspn ground black pepper
2 tspn ground cinnamon
2 tspn ground turmeric
1 tsp cayenne pepper
6 cloves garlic (peeled and crushed)
1 lb (450g) onions (finely chopped)
2 tbspn olive oil
6 oz (175g) dried apricots (halved and soaked overnight in a little water)
3 oz (85g) flaked almonds
2 oz (55g) raisins
2 tbspn honey
1 tspn saffron stamens (soaked in a little water)
14 oz (400g) can chopped tomatoes
2 cups (16 fl oz/450) tomato juice
2 cups 16fl oz/450ml) water or fish stock
1 lemon rind (sliced into thin strips)
1 oz (25g) fresh coriander leaves (chopped)
Method:
Mix together the spices. Coat the fish in half the spices, put in a sealed plastic bag and chill overnight

Preheat the oven to 300℉,150℃, Gas mark 2

Heat one tablespoon oil in the casserole dish, add the remaining spices, garlic and onion, and cook gently until soft. Add the apricots and their soaking water, almonds, raisins, honey, saffron stamens and their soaking water, tomatoes, tomato juice and fish stock

Bring to the boil, place in the preheated oven and cook for 90 minutes

Remove from the oven, and ladle out several spoonfuls of the liquid into a large frying pan. Add the marinated fish and poach very gently for 10 - 15 minutes until it is opaque

Meanwhile, thicken the sauce over a high heat, stirring occasionally

Fry the sliced lemon rind in the remaining oil, then add the chopped coriander

Serve the fish, pour over the sauce, and garnish with lemon and coriander mixture

Salmon with Mango and Coriander (Cilantro) Salsa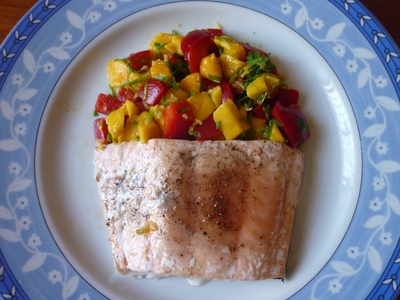 I love combining savoury with sweet, and here the mango and coriander (cilantro) makes a perfect foil for the rich salmon fillet.
Time: 30 minutes plus 1 hour chilling time for the mango salsa
Serves: 4
Ingredients:
4 x 6 oz (170g) portions of salmon fillet for the salsa
1 ripe mango (peeled and cubed)
2 oz (50g) fresh coriander (cilantro) (chopped)
small bunch chives (finely chopped)
1 red bell pepper (diced)
1 fresh serrano chilli (finely chopped)
1 clove garlic (peeled and crushed)
1 inch (2 cm) piece of ginger (peeled and grated)
1 tbspn lime juice
½ tbspn olive oil
extra olive oil for rubbing onto the salmon fillets salt and pepper
Preheat the oven 400℉, 200℃, Gas mark 6
Method:
Lightly toss all the salsa ingredients and chill in the refrigerator for at least an hour to allow the flavours to mature

Rub a little olive oil, salt and pepper onto the salmon fillets, and bake for 15 – 20 minutes

Serve the salmon, with the mango salsa as an accompaniment
Cook's Tip: To prepare mango cubes, stand the mango on its pointy end, slice close to the stone on each side, giving you two "cheeks". Cross-hatch the flesh and then turn it inside-out so that it looks like a hedgehog, then cut the cubes of mango off the skin