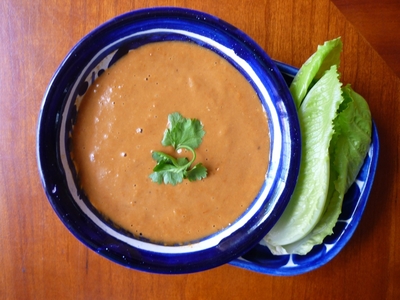 A thick dressing with a rich savoury/sweet taste, to serve on hot or cold vegetables, or a spicy green leaf salad like watercress or arugula.
Time: 30 minutes plus 60 minutes chilling time
Makes about ¾ cup (10 fl oz/150ml)
6 oz (170g) cherry tomatoes
2 tbspn olive oil
1 tbspn balsamic vinegar
salt and pepper
small handful fresh parsley (chopped)


Preheat the oven to 350℉, 180℃, Gas mark 4
Method:
Arrange the whole tomatoes on a roasting dish, and roast for 15 – 20 minutes, giving the pan a good shake every four minutes or so to move them around. The skins should be slightly charred, but not burst open

Allow to cool

Put all the ingredients into the food processor and blend until smooth

Chill for at least one hour

Mayan Red Spice Paste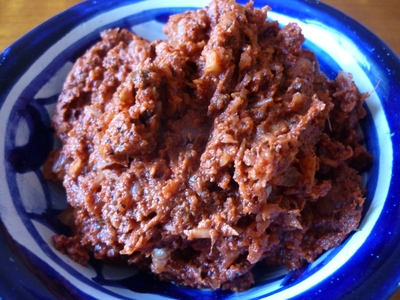 Recado Colorado (Chak Xak' in Mayan) is a Red Spice Paste that is used almost daily in traditional Maya recipes. This aromatic paste is made from annatto (achiote in Spanish) seeds from a small flowering shrub which grows prolifically in the Yucatan, that give a rich, nutty flavour and colour the food a rich orange-red. It is used to marinade fish and to add flavouring to soups and stews, both on the coast and inland.
Time: 20 minutes
Makes about ½ cup (4 fl oz/100ml)
Ingredients:
1 bulb garlic (whole)
1 large onion (whole)
1½ tspn dried oregano
1 tspn ground cumin
2 tbspn annatto (achiote) seeds
1 tbspn black peppercorns
5 allspice berries
10 cloves
1 inch (2 cm) piece of cinnamon stick (crushed)


Method:
In a heavy frying pan, dry toast the whole garlic and onion, turning frequently until charred on the outside

Put the oregano, cumin, annatto, black pepper, allspice, cloves and cinnamon in a spice grinder or food processor, and grind to a fine powder

Peel the garlic cloves. Peel the onion, and cut into small wedges

Add garlic and onion to the grinder or processor and blend into a thick purée

Add the allspice berries and blend thoroughly
Store in an airtight container in the fridge
Cook's Tips:
*To prepare this paste in the traditional Mayan way and give it an authentic, smoky flavour, roast the onion and garlic over a wood fire, and use a pestle and mortar to grind the spices and onion and garlic *To prepare fish, rub the paste over the fish and marinade for a couple of hours before cooking