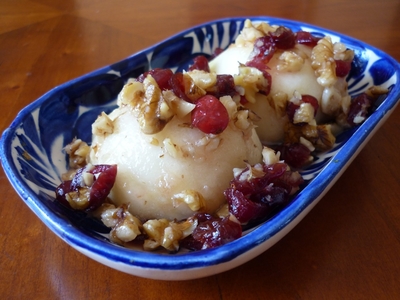 Cranberries are packed with antioxidants and walnuts are rich in omega-3 fatty acids. Combine them with pears and you have a delicious and healthy after-dinner treat.
Time: 45 minutes

Ingredients:
4 oz (110g) dried cranberries
2 ripe pears (peeled and cored)
4 oz (110g) walnuts (roughly chopped)
1 medium orange
2 tspn honey


Method:
Grate the washed orange rind

Halve the orange, and squeeze the juice into a bowl

Add one teaspoonful of the orange rind

Add the cranberries and honey. Mix well, and set aside for about half an hour to allow the cranberries to absorb the juice

Stir in the walnuts 6. Cut the pears in half lengthwise, and arrange on two serving dishes Pour over the cranberries and walnuts in their juice
Cook's Tip:
The sauce tastes even better if you marinade the cranberries overnight

Spiced Honey-Glazed Fruit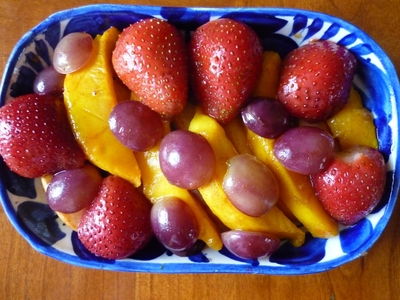 Add a spiced honey glaze to seasonal fruits to give a little touch of sweetness, while keeping within the detox maintenance guidelines. The following ingredients are my favourite combination, but you can choose to mix and match any fruit. I like to include some hard and some soft fruit.
Time: 30 minutes
Serves: 4
Download this recipe


Ingredients:
1 ripe mango
8 oz (225g) strawberries (hulled and halved)
8 oz (225g) grapes, (halved and seeded)
1 apple (cored, and cut into wedges)
1 pear (cored and cut into wedges)
3 tbspn honey
1 tbspn fresh orange juice
½ tspn cinnamon and/or powdered ginger
Preheat grill to high
Method:

Cover the grill pan rack with foil Mix the honey with the orange juice and spice(s) in a bowl
Cut the mango by standing it on its pointy end and slice down close to the stone. With a spoon, starting at the rounder end, cut around the edge until you can lift the flesh out in one piece. Slice into wedges
Add the prepared fruit (except the strawberries) to the honey mixture, and gently toss
Arrange the fruit in a single layer on the prepared grill rack, and grill for 5 - 10 minutes, until slightly softened, turning occasionally
In the remaining honey mixture, add the halved strawberries and coat well with the spicy juice
Add the strawberries to the fruit mixture, pour over any remaining juice, and grill for one more minute

Cook's Tip:
You could use powdered mixed spice instead of cinnamon or ginger