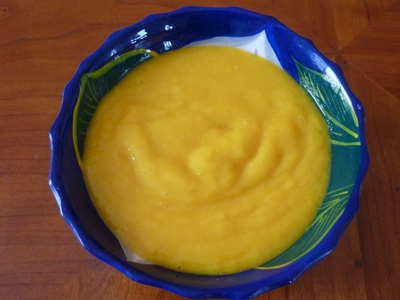 When the mangos are in season in Mexico, I go crazy, making it an ingredient in practically every dish I prepare. Here is a spicy sauce that can be used for dipping raw veggies, or to accompany grilled fish or prawns. Umm…. delicious
Serves: 4

Ingredients:
3 ripe mangos
2 tspn grated, peeled, fresh ginger
2 tbspn rice vinegar
2 - 4 tspn Tabasco Habañero Pepper Sauce
¾ tspn curry powder
1 orange
3 tbspn olive oil


Method:
1. Squeeze the juice from the orange
2. Purée all the ingredients until really smooth
3. Serve at room temperature

Cook's Tips:
*How to peel a mango without getting covered in sticky juice! Stand the mango on its pointy end, and slice down beside the long, thin stone, on each side. You will have two cheeks of mango available. Using a dessert spoon, starting at the rounder end, cut into the flesh as near to the skin as possible, and slice and pull the flesh out in one piece. You can then cut it as you like. Don't forget about the flesh around the stone. Cut the skin off from around the stone with a sharp knife, and then slice off as much flesh as you can.
*When preparing a mango just to eat on its own, again without needing to take a bath afterwards, cut the mango as described above, and then simply dig into it with a teaspoon.

Roasted Carrot Pâté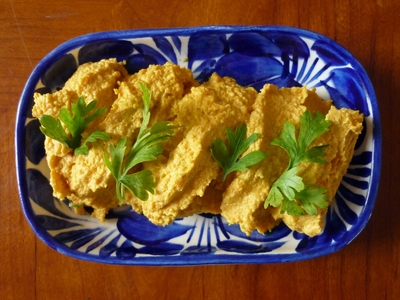 Roasting the carrots before blending with the other ingredients gives this vegetable pâté a sweet and richly aromatic flavour. Perfect for serving with crudités.

Time: 45 minutes
Serves: 4
Ingredients:
1 lb (500g) carrots
4 large garlic cloves (left whole)
2 tbspns olive oil
1 tbspn honey
½ tspn ground cumin
1 orange (juice and grated zest)
juice of ½ a lemon
1 tbspn tahini (sesame seed paste)
Garnish: a little chopped parsley
Preheat the oven to 400℉, 200℃, Gas Mark 6
Method:
Peel the carrots and cut into thick slices, cutting at a diagonal to expose more surface area

Put the carrots and whole garlic cloves in a bowl, add the oil and cumin. Mix well

Pour onto a baking dish and spread out to a single layer. Roast for 30 minutes, turning occasionally

Remove and set aside to cool

Put the carrots into the food processor, squeeze the garlic from their skins into the carrots, and add any oil from the roasting dish

Add the grated zest and juice from the orange, the lemon juice and tahini, and blend into a coarse purée

Check the seasoning and add more lemon juice if necessary

Garnish with a little chopped parsley

Serve warm or at room temperature with celery sticks and red bell pepper slices