Jane Scrivner's Detox Yourself.
This book is truly inspirational. I followed the directions to the letter, keeping to her suggestions for super-foods, and also doing the body brushing, hot and cold showers routine in the morning, and starting the day with the incredibly cleansing and vitalizing hot water with lemon. Even the first few days were not too hard because I had prepared myself mentally according to her advice, and after three months I had lost 20 pounds and felt absolutely wonderful. The only problem was finding enough recipes with the right ingredients, which was when I began to put together my collection of Detox Maintenance Recipes.
Breville Toaster Oven - BOV800XL Smart Oven
I find I use my toaster oven a lot. Instead of having to heat up the conventional oven, which takes time, is an expensive drain of energy, and creates heat in the kitchen, I have found that I can successfully cook all my detox recipes that require oven baking, roasting or grilling in my toaster oven, e.g. Stuffed Red Bell Peppers, Roasted Carrot Pâté and Spiced Honey-Glazed Fruit. I recommend the Breville as the top of the range in toaster ovens, being energy efficient, easy to programme, and has the innovative Element IQ which guarantees the right temperature throughout the cooking time. (also I love the way the shelf pulls out when you open the door)
Oster BVCB07-Z Blender
What is the difference between a blender and a food processor? They do have similarities, and there are combination units available, but I believe that it is preferable to buy one kitchen gadget for one type of task. A blender mixes soft food and liquids, and a food processor chops, shreds, grates or slices soft or hard foods, and processes foods which are too hard for a blender. A blender is essential for making soup and smoothies, and indispensable for most of my detox soups, some of my appetizers, and my two favourite breakfast smoothies. I recommend the Oster as it is good value, and has a glass pitcher which is important if you want to crush ice or make cold smoothies using frozen ingredients.
Presto Pressure Cooker
A pressure cooker is really useful for saving time when making stock, or cooking legumes such as chickpeas or lentils, as you can reduce the time by about three-quarters. I have an ancient Prestige pressure cooker that I was given as a wedding present, which has served me well all through the years. Sadly they are not longer made, so the model I recommend is the stainless steel Presto which comes with a full instruction manual so you can be sure of getting the timings right. Ideal for preparing my detox fish and vegetable stocks.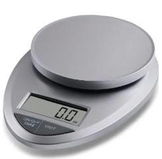 EatSmart Precision Pro weighing scale
I use a weighing scale all the time in my kitchen. I cannot understand how anyone can get good results when ingredients are listed as e.g. half a cup of chopped carrots, or one and a half cups strawberries. What does that mean? And how do you know how much to buy? I go along with a cup of rice or quinoa, because then you can measure your two cups of water and have the right proportions, but for everything else, any serious cook needs to weigh their ingredients.
Hamilton Beach 33967 Programmable Slow Cooker
I have only recently rediscovered the joys of using a slow cooker. This model is fully programmable with led digital controls. A slow cooker can save you so much time in the kitchen, and is great for preparing stocks, beans and chickpeas, and soups and casseroles.
Zak Designs E-Z-Rol Garlic Peeler
I use a lot of garlic in my detox recipes. It is so good for you, and adds so much flavour that I put it in practically everything. But peeling garlic is quite a pain - even after bashing the clove with the flat of a knife, it is sometimes difficult to peel off the skin, and leaves your fingers sticky and stinky. This simple little gadget pops out up to three peeled cloves at once, so when you need to peel a whole garlic bulb e.g. for making vegetable stock, it saves a lot of time.