Great results from our first detox week! This is SO exciting! After only one week, our little group who want to lose weight by following the detox maintenance lifestyle have had an average weight loss of 5 lbs, or more than 2 kilos - each! Everyone is feeling great, and very motivated.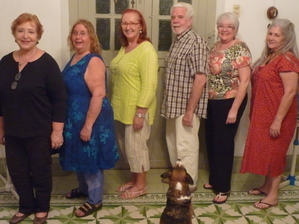 (From left to right: Jacqueline, Nancy, Joanna, Roger, Rainie and Janelle, and Coco the dog looking on with fascination.)
The general consensus is that it was much easier than expected. Although daunted by the thought of no coffee, no meat and no wheat, they are all committed to at least 30 days of following the plan exactly - to giving it a real go! Some said that the hardest part was giving up coffee, but that after three days were happily adapting to drinking hot water with lemon first thing in the morning. The group came up with interesting comments and ideas that I should like to share with you here, as they may be helpful to anyone thinking about starting a detox programme.
By following the plan, and making sure that all the items on the daily checklist had been eaten, no-one felt deprived. Because the plan is so nutrient-dense, there is no need for mid-meal snacks - no hunger between meals - and with the advice from last week about emotional eating and portion sizes, everyone felt they were eating less, but more healthily. (See Week 1)
The change to eating fish - salmon, shrimp and white fish fillets - instead of meat or chicken was a big one, but eating a lot of vegetables and salads was an easy route to take.
One great idea for making life in the kitchen quicker and easier is to prepare wholegrain rice in a large quantity, and freeze it in portions. This way it stays fresh, and you don't have to allow almost an hour every day for cooking rice - and adding a teaspoonful of cinnamon powder to the pot adds a delicious, nutty flavour.
Another good suggestion is to freeze soft goat's cheese, and then shave off thin slices as a topping for a delicious salad.
Try serving your meal on a small plate to keep the portion size down.
No second helpings.
Clean your teeth immediately after a meal to take away any cravings for more.
The breakfast cookies from the recipe book Detox Maintenance Recipe Collection were a great hit, and one member had served them to her family, who all agreed that they were both delicious and satisfying, and much better than any breakfast bar you can buy.
A great motivational idea is to have a specific goal - an important date (maybe a big birthday, or a social event like a wedding) - and a specific amount of pounds or kilos that you want to lose. Joanna showed us a beautiful blouse she had been given, which will be exactly the right size when she has lost 10 kilos, and another that she bought in Paris in Galeries Lafayette, which will fit perfectly when she has lost 20 kilos.
We also talked about how our eating habits have changed - how different it is nowadays to how our parents and grandparents used to eat. The food industry has hijacked our eating habits, and by consuming so many prepared foods with depleted nutrients and added chemicals, we are becoming overfed and undernourished - so back to healthy cooking methods, fresh and preferably organic ingredients, and a wide variety of tastes and flavours.
We discussed the pros and cons of salt, which is critical to our existence. Generally people who eat processed foods consume way too much. The recommended daily amount of salt (and it should be sea salt or crystal salt) is 6 grams, or 1 teaspoonful.
It is wonderful to be able to report such a positive and successful start to our Merida Detox Support Group. Watch this space!
Subscribe to my newsletter for detox maintenance lifestyle information, recipes, health tips and announcements.
Detox Maintenance Recipe Collection is available in paperback and ebook from: Amazon.com Amazon.co.uk Barnes and Noble Create Space