Here is a recipe for turmeric and lime tea - ideal as a "wake-me-up" first drink of the day, and can be taken at any other time. The lime acts as a great detoxifier after your body has been resting and processing the previous day's food intake, and the turmeric is a liver tonic. I only recently discovered that here in Merida, Mexico, what they call "azafrán", those odd-looking worm-like roots usually displayed next to fresh ginger in the grocery store, is actually not "saffron" but "turmeric"! Thanks Joanna for the heads up!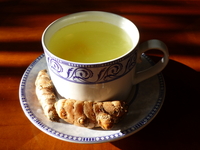 Turmeric and Lime Tea
Makes 1 serving
Ingredients:
1 cups water
½ piece fresh turmeric root (peeled and sliced thinly)
1 lime (freshly squeezed)
1 tspn honey (optional)

Method:
1. Bring the water to the boil
2. Pour over the sliced turmeric and lime juice
3. Cover and let it brew for a few minutes
4. Add honey if necessary

Cook's tip:
Be careful with turmeric because it can stain your clothes. Also, only serve in a cup that does not stain easily.