Several people at the Live Love and Laugh Workshop on the 23rd November have asked for my recipe for a probiotic liquid that I described, using ginger, turmeric, tamarind, lemon and honey.
My quantities for the ingredients are rather vague, depending on the quality of what I can find. Whenever I see turmeric I buy it, because it is not always available. (For those of you kind readers that live in Merida, Yucatan, Mexico, I usually find mine in Chedraui Norte and Mega Balcones, also Superama on the Prolongación and sometimes at the big Soriana on Av Jacinto Canek). Turmeric will stain your fingers (but this easily washes off) and also your cutting board, and the liquidiser goblet (if it is plastic) - but it goes a rather nice orange colour which I think enhances the look!
turmeric roots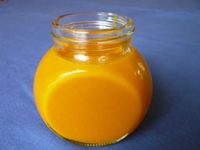 ginger root
tamarind pods
lemon or lime
honey
Peel and chop about 8 turmeric roots (remember that in Mexico they are sometimes called Raiz de Azafrán, or Raiz de Cúrcuma) and about the same amount of root ginger. Put them into a small pan and cover well with water, bring to the boil and simmer for about 45 minutes, until softened.
Meanwhile take the shells off about 10 tamarind pods, put them into another pan, cover well with water, bring to the boil and gently simmer for about 40 minutes. When they are soft and mushy, and the seeds have separated themselves out, beat with a wooden spoon until they are smooth, and sieve through a strainer into a bowl.
When the ginger and turmeric are soft, remove from the heat set aside.
When cool, put the ginger and turmeric with their cooking water into the liquidizer goblet and process until everything is liquid. Add the tamarind puree, the juice of a couple of lemons or limes, and some honey, and process again to mix everything together.
Put into a screw-top glass jar and leave it to stand for 24 hours to allow the honey to work its magic, and then store in the fridge. It should last at least 4 weeks.
I usually put one or two tablespoons into my smoothie, or onto my morning fruit, which ensure I get at least one serving per day of the life-giving health properties of ginger and turmeric. Remember to add coconut oil so that the turmeric can be fully absorbed, and also a teaspoonful of cinnamon powder. So all in one go you have added ginger, turmeric and cinnamon, three essential spices, to your daily diet.
I am sure you will love the slightly spicy taste, and once you have made it, it is so easy to just take a couple of spoonfuls every day.