It is packed with beneficial nutrients and ingredients, that give a fantastic energy start to the day, will keep you going until lunchtime and beyond.
Do you know about an ingredient that has more iron than spinach, more potassium than bananas, more magnesium than almonds? And this is something that everyone loves! Yes, it is chocolate - or cacao powder. It is always better to use organic ingredients if you can find them. In Merida, Yucatan, they are available at Ya'ax Tal on Prolongación de Montejo, and also at the big Chedraui Norte.
1 tspn cacao powder
1 tspn spirulina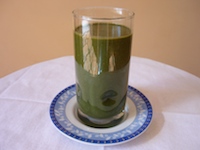 1 tspn wheatgrass powder
1 tbspn chia seeds
1 tbspn hemp seeds
6 whole almonds (or 1 tspn almond butter)

small handful of baby spinach
coconut water
12 black grapes with seeds
chunks of pineapple, including the nutritious hard core
multi-vitamin tablets
chondroitin and glucosamine
This combo will pack a punch with zesty flavours, and powerful antioxidants, vitamins, minerals and proteins. It is so much better to be able to eat the whole pineapple including the hard core which contains most of the nutritive benefits, and also incorporate whole almonds and seeds, producing incredible energy that lasts for hours. All whipped up into a delicious smoothie, so that the digestive process has already been started for you!
I hate taking pills or tablets in any form, but my secret is to add my multi-vitamins to the smoothie, and then I don't even notice them! I also add chondroitin and glucosamine to build cartilage and protect my joints.
Everything I read about cancer and other chronic 21st century illnesses leads me to believe that it is essential to constantly boost our immune system, reduce inflammation (the cause of most disease), and increase alkaline intake. This smoothie is a great way to start your day, knowing that you are protecting and healing your body.