Toasted sesame and linseeds added crunchy texture, flavour and health benefits to an already incredibly healthy mixed salad. Today I included organic baby spinach leaves, carrots, beetroot, chickpeas, tomatoes, spring onions, parsley, cilantro and seasoned it with my Japanese Ginger Dressing from the
Detox Maintenance Recipe Collection
and added a couple of spoonfuls of home-made goat's yogurt too. Delicious.
I have just signed up for a weekly organic veggie box, and my first delivery this week almost overwhelmed me with a variety of goodies. Here in Merida, Yucatan, it is not easy to find organic products - I have learned where various different ingredients are available, and when, and do spend a fair amount of time hunting them down. So when the offer of an organic box came along, I thought I would give it a try. The box was enough for a family, but I have a very good friend who is happy to share it with me, so this will be such a worthwhile step forward in the detox lifestyle.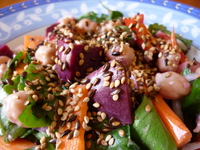 The salad I prepared today included fresh raw organic vegetables and organic chick peas that I soaked yesterday, and then cooked overnight in the slow cooker. But you can add any combination that is to your liking, preferably organic and locally grown.
Toasting seeds makes such a difference to their flavour. Just throw a small handful into a dry frying pan, and toast on a gentle heat, shaking every now and then to prevent them burning. You know when the sesame seeds are ready because they turn a beautiful golden colour, and the linseeds start to ¨pop¨. Toasting seeds alters their taste and makes them crunchy and delicious. Both linseeds and sesame seeds have antioxidant properties, and sesame seeds have a high content of calcium. I learned that in traditional mayan villages, women eat toasted sesame seeds to boost their iron levels.
If anyone living in Merida would like an organic veggie box, please let me know in the comments box. They deliver from Maní every tuesday and include whatever is seasonal.