Frozen peas are one of the few instances where frozen is better than fresh, unless you are lucky enough to grow them yourself and can pick and cook them straight from the garden. In my experience, frozen peas taste really fresh, whereas "fresh" peas can lose their sweet flavour and tenderness
This gorgeously green soup tastes equally delicious hot or chilled
Time: 40 minutes
Serves 4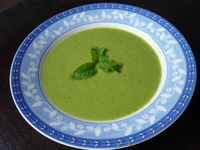 Ingredients:
1 lb (500g) frozen peas
1 tbspn olive oil
1 medium-sized potato (peeled and diced)
1 medium-sized onion (sliced)
4 cups (32fl oz/1litre) vegetable stock
a few sprigs of fresh mint
Method:
1. Heat the oil and add the sliced onions. Gently sauté for about 5 minutes
2. Add the prepared potato and cook for another 5 minutes
3. Add the stock, bring to the boil, and simmer for 10 minutes
4. Add the peas, bring to the boil again, and simmer for a further 3 minutes.
5. Set aside to cool for a few minutes, then add some of the mint leaves
6. Blend until smooth
7. Serve sprinkled with the remaining chopped mint leaves