The Mérida Slow Food Market is held every Saturday morning between 9am and 1pm on Calle 17 between Avenida Colón and Avenida Cupules. The weekly event is becoming more and more popular, and many different vendors come each week to sell their organic vegetables and home-cooked delicacies.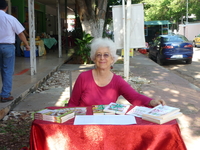 Now that I have Detox Maintenance Recipe Collection available in English, and the same collection of recipes in Spanish, called Detox: Vida Sana Sin Toxinas, I have been given permission to have a table there every Saturday morning.
The Detox Maintenance Recipe Collection fits in perfectly with the ethos of the Slow Food Market, especially as many of my recipes include goat's cheese and yogurt, and this is one of only two places in Mérida where you can find these ingredients.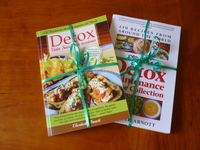 I am really excited to see how more people are becoming aware of the dangers of toxic foods, and that it is so important for your health to eat organic and healthful food - to prepare your own dishes with healthy ingredients.
Next Saturday (28th December 2013) there will be a draw of free gifts from many of the vendors to those who sign up as members of the Slow Food campaign, and I shall be offering a free book either in Spanish or English as one of the prizes.
The New Year, after all the Christmas parties and overeating, is the ideal time to start your Detox, and the Detox Maintenance Recipe Collection gives you inspiration to begin your journey towards a healthy body, and healthy weight.