Kick-start your morning with this energizing drink, and you set yourself up for a brilliant day.
Who needs caffeine when there is a healthy alternative? My recipe for Hot Lemon and Spices hits the spot, and really sets you up for the day. In my continual search for new ways to enjoy the detox maintenance lifestyle, I have added fresh turmeric and ginger to my early morning hot lemon drink, making a stimulating and energizing drink without the side-effects of caffeine.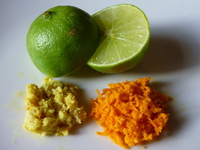 Turmeric is an essential ingredient on a detox programme, as it has powerful antioxidant and anti-inflammatory properties. It cleanses the liver, and is especially effective when taken first thing in the morning, after your night's fast. Adding turmeric to your daily diet is one of the best things you can do for long-term health.

Ginger jazzes up your palate, is great for reducing inflammation, boosts the immune system and is very good for the digestion.
Fresh lemon is packed with vitamin C and has strong anti-bacterial, anti-viral and immune-boosting properties. Lemon juice aids digestion and cleanses the liver.
Combine these three ingredients to kick-start your day with a delicious, cleansing and energizing drink. Adding a little honey if you need to sweeten it up will also give you anti-bacterial and anti-fungal protection as well as an energy boost.

This recipe is for one person, but the quantities can easily be doubled up for more portions.
Serves 1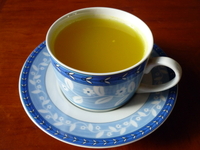 Ingredients:
3 cm raw turmeric root
3 cm raw ginger root
1 lemon
1 tspn honey (optional)
1 cup water
Method:
1. Peel and finely grate the turmeric and ginger
2. Bring the water to the boil in a small pan
3. Add the grated turmeric and ginger
4. Squeeze the lemon juice into the pan
5. Turn off the heat, cover and leave to stand for 5 minutes for the flavours to blend
6. Sieve the spice and lemon liquid into your cup
7. Stir in the honey if desired
8. Enjoy!
Cook's Tips:
Cover the pan while the flavours are blending to ensure that the valuable oils do not evaporate if the steam is allowed to escape.
Try this energizing tea for a mid-afternoon pick-me-up. Twice a day will give you twice as many health benefits!