I have been experimenting with making my own goat's milk yogurt, and am delighted with the results.
Many of the recipes in my
Detox collection
include yogurt as an ingredient e.g. Apple and Celery Soup, Sweet Potato Soup, Chilled Avocado Soup, Cucumber Raita, Fresh Fruit in Yogurt and Mint Vinaigrette, Aubergines with Spiced Chick Peas and Pistachio Sauce ... to name just a few of my favourites.
Where I live, in Mérida, Yucatán, it is rather a problem finding goat's milk yogurt, in fact as far as I have been able to find out, there is only one source, in spite of the fact that there are several goat's farms in the nearby countryside. If you would like to know where you can buy goat´s milk in Mérida, Yucatán, please leave a comment below, or contact me by email at Detoxmaintenancelifestyle@gmail.cm
So as I am always looking for ways to avoid culinary disappointments, especially when planning certain dishes that require yogurt, I researched yogurt-making procedures and have had resounding success, without having to buy any special equipment.
It always gives me a great feeling of satisfaction and achievement when I check the yogurt after 8 - 10 hours of fermenting, and find a thick, rich, creamy substance that tastes absolutely delicious. I use equipment that I already have in my kitchen, and delight in the fact that I am not even using any electricity.
I have read that you can make almond milk yogurt, so will be experimenting with that soon. It seems like a good idea if it tastes as delicious as my home-made almond milk.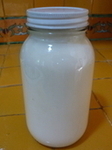 To make a thick, creamy goat's milk yogurt:

Ingredients:
1 litre goat's milk
1 tbspn yogurt (already prepared)
Equipment:
1 litre glass screw-top container
1 thermos flask with a wide mouth
1 cooking thermometer
1 small towel
Method:
1. Heat the milk to around 75℃ or 80℃ (160℉ to 180℉)
2. Set aside to cool to around 45℃ to 50℃ (110℉ to 120℉)
3. Meanwhile, sterilize the glass jar. Half-fill it with water, and cook on high in the microwave oven for about 6 minutes, or until the water has boiled. Then discard the water and allow to cool
4. Gently stir in the tablespoon of prepared yogurt until fully blended
5. Pour into the glass jar and screw on the lid
6. Wrap in a towel, and place in the thermos flask
7. Close the lid and leave in a warm place undisturbed for between 8 to 10 hours
8. Place in the refrigerator, to stop the fermentation process
Cook's tips.
*If the yogurt is not thick enough for your taste, you can strain it through a cheese cloth for a couple of hours, which allows the whey to drain off, leaving a very thick yogurt. You can always use the protein-rich whey in smoothies or some other recipes that require liquid
*Save a tablespoon of yogurt for making your next batch