When the weather gets hot, you need to drink plenty of liquid. Here are some delicious and subtle ideas for making your own vitamin water.
WOW - it is getting HOT in Merida, Yucatan, and time to make your own refreshing, vitamin drinks. These ideas are perfect for Spring Cleaning your body, and making it even easier and more enjoyable to drink plenty of water, the fountain of life.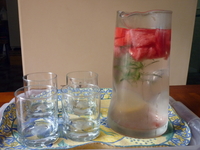 Fill a large jug of water, add one of these combinations of fruit and herbs or spices and refrigerate for about 8 hours, or overnight.
As a general rule of thumb, a cupful of cubed fruit (or 150g) should be about right.
Watermelon with a couple of sprigs of fresh rosemary
Cucumber with thinly sliced lemon or lime and a sprig of fresh basil
Blackberries and fresh sage leaves
Pineapple and fresh mint leaves
Strawberries or raspberries with thinly sliced lemon or lime and fresh mint leaves
Apple and a couple of cinnamon sticks
Orange and vanilla
Melon and ginger
Cherries and lime
Mint and ginger
These tastes are subtle, refreshing and good for you. What could be better?