I have been incorporating more raw green vegetables into my daily diet, and lately have become addicted to this delicious green smoothie.
Raw green vegetables raise the pH of your body, and contribute to a healthy alkaline/acid balance of the blood cells. In order to have a healthy pH balance, you need to drink at least two litres of water (as I outlined in my last blog), eat raw vegetables and fruit, and avoid toxic foods like meat, sugar, cow dairy products, wheat and all commercially processed foods.
I will go into this in much more detail in my next blog. Meanwhile, here are my proportions for the ingredients for this delicious green smoothie that has become my favourite breakfast. This smoothie keeps me going until lunchtime, and provides a massive kick-start to the day with alkalizing foods. It has fresh grapefruit juice, baby spinach, banana, and avocado
Serves 1:
Ingredients:
1 grapefruit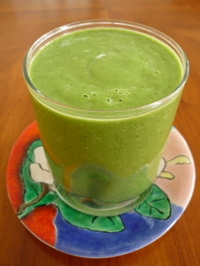 handful of fresh baby spinach or boiled chaya leaves
½ avocado
½ banana
Method:
1. Squeeze the juice of the grapefruit
2. Roughly chop the spinach leaves, place them in the liquidizer, and add the grapefruit juice
3. Blend until the leaves are fully broken down
4. Add the rest of the ingredients and blend until smooth
5. Serve and enjoy
Special health note:
I first started making this smoothie with fresh chaya leaves (a local Yucatecan leaf also known as tree spinach), but then learned that, although it is often served raw in Mexico, it contains cyanogenic glycosides, which are a source of cyanide poisoning. So now I only use cooked chaya leaves, both in smoothies and in casseroles and other dishes. They are safe to eat after they have been boiled for at least five minutes, which releases the cyanide.
Another warning about chaya leaves is that they should never be in contact with aluminium, as this can cause a toxic reaction. Use glass or stainless steel.
However, in spite of all these dire warnings, chaya leaves have a massive amount of calcium, and contain protein, phosphorus, iron and vitamin A, and are an important part of the Yucatecan diet.