I now have a stunning new cover for the paperback edition of the Detox Maintenance Recipe Collection. My wonderful publisher - Lee Steele of Hamaca Press - has created a work of art for my book. Same inspirational recipes - appetizing new image.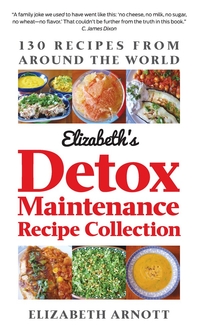 Online publishing is so flexible. It is very easy to make minor editorial adjustments - and I have to admit that there have been one or two typos that have been lurking in the depths of the text. But hopefully all these have now been tracked down and edited.

And now we have a stunning new cover, with mouth-wateringly luscious photography (all taken with my little digital camera in my own dining room), adding more energy and excitement to the whole concept of Detox Maintenance recipes.