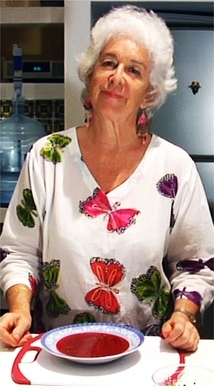 I have come rather late to writing recipe books, having spent the greater part of my professional life in the classical music industry, working for a large recording company, a well-known music publisher, and as a violinist and violin teacher. However, as an avid and enthusiastic cook, I have always given cooking and entertaining a high priority, spending hour upon hour in the kitchen, trying out new ideas, flavours, and experimenting with recipes.
My work as a musician, together with my passion for travelling, led me to visit many different parts of the world. I believe that in order to really enjoy the culture of any country you have to eat the local food. Fortunately in London, where I spent most of my adult life, the multi-cultural atmosphere has led to a myriad of international restaurants.
I have always been interested in health and diets, and followed many fads and trends over the years, but when I discovered the idea of Detox Maintenance Lifestyle, I knew that I had hit on the solution to living a healthy life, which is becoming increasingly difficult in this age of prepared foods, enticing chemically-loaded snacks, GM foods, animals kept in insanitary and inhumane conditions and treated with hormones and antibiotics, and food scares like e-coli and mad cow disease.
There is a well-known saying "we are what we eat" so it is more important than ever to eat healthy, organically raised ingredients, and avoid toxic foods. My research led me to a formula for eating well, feeling satisfied and cleansing the body of the insidious build-up of toxins which happens gradually over the years. Drink a cup of hot water with lemon juice first thing every morning. Include at least one of the following "super-foods" every day (beetroot, blueberries, broccoli, cabbage, carrots, fennel, garlic, grapes, honey, onions, spinach, tomatoes, watercress), have one portion of brown rice, three portions each of vegetables, raw fruit, and salad, at least one portion of non-dairy cheese or yogurt, and two portions of any of the following – fish, herbs, nuts, olive oil, pulses (legumes).

I moved from London to Mexico at the end of 2000, and now go crazy over the abundance of fresh fruit and vegetables available all year round from my local market. Unfortunately I was not able to include some of the more exotic fruits and vegetables in the recipe books because I know that they are not readily available everywhere, however, it has been an exciting culinary journey and I could not resist including some Mexican recipes which use ingredients that everyone should be able find locally.

You can buy my Detox Maintenance Recipe Collection series - breakfasts, soups, dips and starters, fish and seafood, vegetarian entrées and side dishes, salads, dressings, sauces and marinades, and even desserts - as separate books, or you can save money and buy the whole collection of 130 recipes from around the world in one volume. I had great fun trying and testing the recipes on friends and family, and even those who swear they could never give up meat, wheat, dairy and sugar have to admit that a healthy eating lifestyle can be tasty, interesting and satisfying.